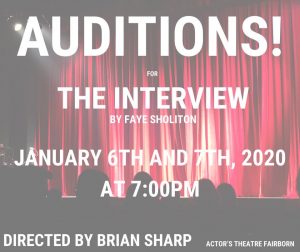 Actor's Theatre Fairborn is holding auditions for "The Interview" by Faye Sholiton on January 6 and 7, 2020 at 7 pm at Actor's Theatre Fairborn. There will be cold readings from the script. Please bring all conflicts for the dates January 8-Mar 8 with you to auditions.
Cast
3 Women, 1 Man
Woman 1: Age 60s +

Woman 2 and 3: Age late 20s – mid 30s

Man: Age 20s – early 30s
Ages are approximate and can fluctuate.
Production Dates are:
Feb 29, Mar 1, Mar 6, Mar 7 and Mar 8
Contact Brian Sharp, Director with questions by clicking this link.
You can also fill out our Audition form by clicking the link below.